As you all must know by now, the birth of 'Eurotrash' as it has come to be defined by this blog, was in Florence in 2004 after an early morning visit to Luisa Via Roma. Since purchasing my first pair of limited edition Notify jeans by Linda Evangelista with the words "BACIAMI DI PIU'" spattered across the derriere, we began to think of Eurotrash as more than just a pejorative term used to describe that European anomaly who died in a nightclub in Ibiza, dressed in neon lycra – for us, Eurotrash was just the beginning of the ultimate symbol of luxury. It would never be that materialism driving most North American consumption; it would be both aristocratic and plebeian; organic and awkward; it would be Jeanne Moreau walking all of Paris at night.
Tweet
I can probably count on my hands and feet in under 10 seconds all the people who Carmen Dell'Orifice is more beautiful than, at 81 years old. My, what high cheekbones you have!
Carmen appears alongside some younger thing in the new ad campaign for Swedish retailer, Lindex and their collabo with Missoni (another favourite of ours here at Eurotrash). Really, she can do no wrong. Speaking about wrong – anyone who doesn't agree that she is the bomb dot com.
Just don't look at her arms. (My mom pointed those out to me, apparently beacons of real aging).
We all age and a handful of us can only hope to do so with the utmost grace and elegance, and even fewer are those who actually do. Her Wikipedia page reads like a Danielle Steele novel of lost loves and bankruptcy. In spite of it all, she remained lovely. An inspiration for anyone who needs a few more reasons to remain lovely. Because, in the end, that's all we can really do.
Tweet
Adrianna bathing suit by Tosca Delfino $220 available at Ukamaku.com
Instead of being in St. Martin right now, which I was supposed to be very much so in St. Martin, right now – I'm writing this swimsuit-ridden post. Shedding a few pounds here and there never felt better than the day your bikini bottoms don't dig into your hips, and your skinny jeans fit. What a better way to celebrate than buying designer swimwear and at least attempting to go on vacation. You can find me on my rooftop patio, complete with cement tiles, trying to get a tan via industrial windburn.
I'm eyeing this gorgeous retro number by Canadian designer (who now lives in Milan, so eurotrash), Tosca Delfino. If you've yet to get acquainted with her bathing suits, I highly suggest you dive into her chic world of prints. FYI: she used to work at Missoni. 'nuff said.
Tweet
JUST GOT GIMP, last night. I have no clue how to use it but I am learning by intuition and YouTube tutorials. Oftentimes, I wonder how I can even call myself a blogger! Moving on.
Moda Operandi is currently hosting a Lizzie Fortunato Trunk Show. I fell in love with the Hemingway Earrings II – and they aren't that expensive, requiring a mere $90 deposit just for the hell of it.
Tweet
Missoni mules available at Net-a-Porter; $660.
Hey there, sunshine. Looking for something to brighten up your un-pedicured toes? Of course you are. I bet you wanna Eurotrash yourself, too. You know, mules & clogs tend to be the most underrated category of footwear. Sure, blame it on their perversions: the jewish camp girl clog or brrrrrr, crocs. Not all mules are clogs, but all clogs are mules – and crocs should just not exist, period. But these Missoni mules get an A+ in my books. I have a pair of Gucci clogs that I revere more than life. While other girls wear pumps and sandals, the wooden heel clog is just that extra WTF in any outfit. Skinny jeans, cut-off shorts, a sundress; they all beg clogs. These Missoni clogs, with their pastel crochet and wood heel give me shoe goosebumps. Whip out the VISA – Mama's got feet!
Tweet
Bianca Balti illustration by Lisa Nishimura for Whatever Eurotrash.
Another one of my favourite Missoni ladies, Bianca Balti, is also one of those Eurotrash muses I like to talk about. So much so that Lisa Nishimura sketched and pixeled her up for me! Why is Balti eurotrash? First of all, she isn't Britney Spears famous. Eurotrash prefers a small, but astute following. If you catch a glimpse of her, she always looks perfect – none of this stars are just like us bullshit hiding under a baseball cap without spanx. Secondly, she can make jeans and a tank work fucking miracles on a Fendi peek-a-boo bag that costs more than your last 2 mortgage payments. Bianca Balti. Remember her name because chances are, she won't remind you.
Read the rest of this entry »
Tweet
Hotel Missoni Kuwait. Image: highsnobeity.com 
Kuwait a minute, is that a Missoni hotel?
Maybe you haven't noticed that the impulse to conquer the world didn't die with Queen Cleopatra's last snake bite, sending her to the realm of the dead – her hopes of Caesarion's ascendence over both Western and Easter empires, last night's dream. Families like the Rothschilds and probably to a lesser, more commercial degree, The Missonis, still propagate their wealth and power by dipping their hands into anything and everything. I mean, just look at Trump. The toupee on his head, which is most likely held in place by tiny gold threads to give it that rootstock appearance, would probably sell for a couple hundred thou just because it hovers oh-so-close enough to whatever that thing we call Trump is.
Why the world needs a Missoni hotel is hard to explain. But there it is, standing tall in Kuwait – and not so tall in Edinburgh, and soon in Brazil, Mauritius and Oman. The height of these latter edifices is still unknown. How tall will they be? Nobody knows!
I've always heard whispers about these s0-called Missoni hotels but never really thought that anybody actually stayed in them. For $365.00/night you can stay at the Hotel Missoni Kuwait this weekend. I got the price on hotwire.com, yo. But would you stay there? Or shudder at the risk of looking tacky? Like the woman decked out head-to-toe in the LV monogram – yes, including her fingernail art. I mean these concept hotels are great to blog about and visit on tours and stuff but after the novelty wears off wouldn't you rather be at The Ritz?
(Quebec City's Ice Hotel is an example par excellence. I took a tour of the hotel. It's cool to visit for about 30 minutes. Then it gets really, really  cold. And completely uncomfortable. Plus you have to go OUTSIDE to a not-close-enough heated chalet, which has the interior decor of grade 8 overnight camp,  should you need to pee in the middle of the night. With my loosey-goosey bladder I might as well sleep in the goddamn cafeteria – also reminiscent of high school. There's a vending machine. Lays chips and stuff).
Don't get me wrong, I love Missoni. I probably wouldn't stay in their hotels, though. If you're an expert at knit sweaters and caftans then what the heck are you doing trying to design a bathtub!? (169 of them, to be exact). That's just me. I'm a firm believer in going to the expert for every single thing you need. I'm not a fan of the Walmart mentality. The one-stop shop. Or a brand name that stamps its trademark onto all kinds of products. And I don't think luxury brands fare too well adopting this said approach. They lose that rare cachet of specialization. Kinda like a cheesemonger selling iphone cases and cigarettes, I think.
Tweet
 Eurotrash in Montreal (2007) and in Milan (2005) clad in Missoni. 
 Some people grow up with a silver spoon, or several, as I learned last night watching The Jazz Baroness – the story of Pannonica Rothschild's departure from her silver spoons into the then-subversive American jazz scene of the 1950s. Sure, if I was Justine Rothschild I'd have many silver spoons. But would I have Missoni?
Something about money that just can't buy you good taste. In fact, the Rothschilds who made appearances in the throwaway documentary were far from fashionable – far from presentable, if you ask me. First of all, none of them had ever heard of botox. Or dentists. A clan of billionaires with bad teeth and probably, bad breath. Gosh. Can you believe the Royal Family asked the Rothschilds for A LOAN? You would never know by looking at them, that's for certain.
What's all this got to do with the Missoni stripes that haven't left my margins yet? Nothing really. Except that if I were a billionaire with the choice of duck milk, goose milk or half-sweetened lizard jizz for breakfast I'd certainly take the time to at least PAY someone to make me look presentable – and if we're talking about me, personally, I'd want to look like an aristocratic version of Anna dello Russo minus her face.
My Missoni hat and scarf! OK, so they don't match per se, but isn't that the point of Missoni? 
So I've become quite content (ok, satiated for the time being) with my paltry collection of Missoni fare. I've got a knit scarf and I used to own a Missoni sport knit cardigan, which I bought in Florence when there used to be a Missoni Sport. (I sold the cardigan. Cacat!).
This Christmas I added a Missoni cashmere hat to my collection thanks to Mr. Eurotrash, who has recently added the ability to stop women in the street to compliment them on their Missoni pieces to his many talents. Eurotrash like me.
Tweet
Perfect. So "I don't give a fuck". Just slipping on my $1400 sweater to hitch a ride on the back of a motorino. um, eurotrash?
Tweet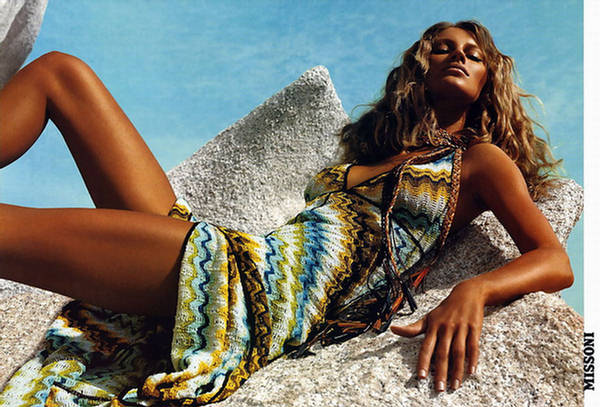 Gisele in Missoni ads – my all-time favourite campaign.
Missoni started as a small knitwear business run by Ottavio and Rosita Missoni in the 1950s. A baby brand but as Emilia points out, one that flourished in the image of a prosperous post-war Italy. Missoni goes hand in hand with that silly, quasi-cartoon aesthetic that brought the likes of Swatch watch and Pino Daniele, coloured reading glasses and Levi jeans to the token Italian look. Since then the brand has grown in the hands of first-generation Missoni children into a world class luxury fashion house – but overall, Angela Missoni (creative director) has stayed true to her parents' kaleidoscopic vision – colouring outside the lines whenever need be.
Tweet