My two favourite outfits from the Dufferin Mall Really Runway Event. On the left: Le Chateau Blazer ($139.95) Le Chateau Pant ($69.95) La Senza Bra ($29.50) Aldo Necklace ($30.00) Aldo white clutch ($40.00) H&M Shoes ($59.95). On the right: Le Chateau Dress, Le Chateau Scarf Headband, Aldo Sunglasses, Aldo Bracelets, Aldo Clutch, Le Chateau Shoes. Total Cost of Outfit: $213. All available at Dufferin Mall (900 Dufferin St). Photography by Owen McLeod @ Owen E McLeod Photography. 
Dufferin Mall, really. After attending the Dufferin Mall Really Runway event a few weeks ago at Locus 144 in Liberty Village, I wanted to share all their fashion secrets with my readers. From mod girls to flirty office-appropriate options, I was thoroughly impressed with the Spring offerings. The outfits were put together pairing seasonal trends with smart shopping – most of the items rang in under $100! Meaning, you can update your wardrobe without selling a kidney. The best part? (Well, other than peddling your organs). Everything is available at Dufferin Mall. So, to get you started off in the right direction, I'm giving one lucky reader a super-stocked swag bag courtesy of Dufferin Mall. In there you'll find gift certificates, accessories, and makeup to make your next trip to Dufferin Mall all the better. Follow the instructions at the bottom of the post to enter!
Tweet
If "Eurotrash" could be captured in a photograph, this would be it. This is it.
Thanks to fashion blog, The Backseat Stylers , for feasting me on fresh pics of Anna dello Russo for H&M in Vogues from other countries, in other languages. Really, the English speaking world is always a bit in ritardo. Other than the obvious, dello Russo looks fucking glam as a honey boo boo tiara, these editorial shots hark back to the Eurotrash aesthetic. I've been trying to get you guys on this train for a long time, two photographs of ADR in a ball gown are worth 4 years of blog posts. Read the rest of this entry »
Tweet
Anna Dello Russo. Vuitton and an espresso. Can you say, Eurotrash? 
Just last week I got news of ADR's accessory line collabo with H&M thanks to a Fashionights.com post. The promo paraphernalia includes a video interview of ADR as she shows and tells her dollhouse apartment, complete with a fashion 'biblioteque' (a false friend in Italian-to-English: biblioteca = library; libreria = bookstore). Her literal translations made me lol a few times, especially her self-professed mission statement, "I am the guardian of the fashion", which she clearly just freetranslations.com'd in her head from the Italian, "sono la guardia della moda" – which is much more dignified and actually means, 'a fashion gatekeeper' IRL, ADR. See for yourself in the video: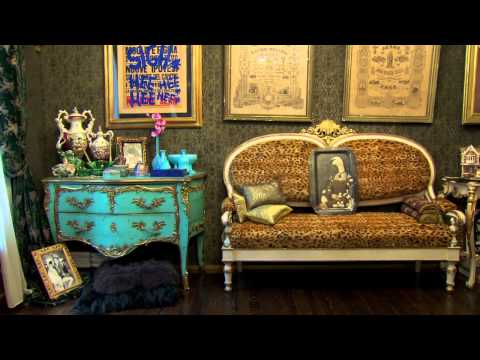 Tweet
image: Luna magazine, July 2003.
Fast Fashion or Slow Style? Most people think this choice is ostensibly, totally dependent on the state of your bank account. If you make $15/hr you should shop at H&M; if you make $1500/hr you should shop at Holts. Is it really this black and white? Rich or poor? Better or worse? Or has the consumer construct lead us to believe that affordability should guide all our consumerist consuming and has thus, carved out a gaping hole in the marketplace for the obeasts (obese beasts) like Walmart, H&M, Zara, and Target to squeeze their fat asses into. The question of affordability is then readily answered, over and over again, when you can walk into H&M and feel like a Queen because you are well aware that there isn't one item in the entire store that you can't afford. A.k.a. Field Day.
Tweet
image: Style.com
I went to bed last night reading tweet upon tweet about Prince, Nicki Minaj, Linda Evangelista, Blake Lively, every single celebrity name you could think of, all attending the well-awaited Versace x H&M runway show. Since the dawn of diffusion, I've always been super critical of these high-fashion-low-fashion collaborations as evinced in my controversial article Fast Times at High Fashion, revealing the dirty side of the Lanvin for H&M marriage.
Going over the looks from last night's runway show it became evident that Donatella took the collaboration most seriously. As far as she's concerned she wasn't making H&M clothes – she was, and has always been, making Versace.
Tweet