Posts Tagged 'gisele bundchen'
One of my all-time favourite images by Mert & Marcus published in Pop FW 2001 as "Death Valley". I want to share a quote that, for me, is synecdochical of my entire approach to life and is captured by this photograph as it evokes much more than its parts:
"The passion of an aesthete is absolutely inaccessible to the man of ordinary concept who calls a dog a dog and a spoon a spoon."
- R. Huelsenbeck, En Avant Dada.
Tweet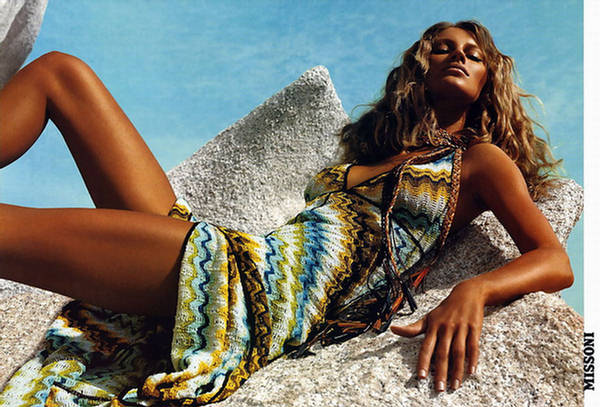 Gisele in Missoni ads – my all-time favourite campaign.
Missoni started as a small knitwear business run by Ottavio and Rosita Missoni in the 1950s. A baby brand but as Emilia points out, one that flourished in the image of a prosperous post-war Italy. Missoni goes hand in hand with that silly, quasi-cartoon aesthetic that brought the likes of Swatch watch and Pino Daniele, coloured reading glasses and Levi jeans to the token Italian look. Since then the brand has grown in the hands of first-generation Missoni children into a world class luxury fashion house – but overall, Angela Missoni (creative director) has stayed true to her parents' kaleidoscopic vision – colouring outside the lines whenever need be.
Tweet