Posts Tagged 'Anna dello Russo'
Who can ever get enough of ADR? Here she is yesterday in Paris just doing her thing. Incidentally, she must've got the Tehran Times memo about covering up and swathing in patterned scarves. I love her kaleidoscopic fusion of florals and geometrics, colours and black and white.
Tweet
I must preface this post by admitting that I am currently sitting at my desk, a cloudy Toronto skyline is ostensibly the most beautiful thing in my periphery, and no, I'm not in Paris. However, thanks to Anna dello Russo, who is in Paris, I get to peruse the actually beautiful Delfina Delettrez jewellery presentation that took place today at the Almine Rech Gallery.  Read the rest of this entry »
Tweet
A quick post from a city stroll at Osgoode Hall in Toronto. Despite what you all think, I actually don't go around dressed like Anna dello Russo – in fact, I prefer a sporty/preppy look for everyday life. There is something discretely European-appropriation-of-American-style to chucks, Wayfarers, a knit sweater, ripped jeans and a Louis Vuitton Neverfull. Incidentally, the jeans and sweaters are part of my latest Fall loot from Zara. Thanks, Alexander Liang, for snapping this pic!
Tweet
Ever since this man put Anna dello Russo in his shorter than short regal lilac dress and did the same to Chiara Ferragni, multiple times, once in a long white number that had me suspecting a nuptial with ex-Riccardo, in the most fashionable expression of a wedding day on the streets of Florence – Fausto Puglisi had me at mid-thigh.
He went through a rebellious punk rock phase for Fall 2013, but back for Spring he took the best parts of his leather bondage and mixed it with pure sprezzatura. Pink, red and sky blue palm trees in the sun is all I want to wear after perusing this collection last night, over and over and over again. I swear I know it by heart. Perhaps the Alexander Wang of Italy, Puglisi has been chosen to revamp the French fashion house, Emanuel Ungaro (pace, Lindsay Lohan). His ideas are fresh, not regurgitations of runways past and yet they don't veer too far away from identification, and thus Puglisi has the sweet ability to set the trend. For now, let us just pray that some retailer in Toronto with enough foresight decides to carry Fausto Puglisi so that we can carry Fausto Puglisi. Or maybe just me, which I'm totally OK with. Leather belt bra, anyone?
Tweet
I think if you stand too close to Anna dello Russo you begin to morph into her not-so-quite replica. Such has been the fate of her assistant, Carlotta Oddi. Not quite Anna, but still quite Eurotrash.
Excuse me while I make myself an espresso before I continue this post.  Read the rest of this entry »
Tweet
Cara Delevingne in Burberry at Cannes 2013 
Instead of focusing on one "Eurotrash Person" today, I decided to highlight an event, at which all of my Eurotrash peoples were in attendance. What a congregation of couture dresses and fancy pants. Cannes, Antibes, Hotel du cap, Moncler after party, amFAR, Sharon Stone and of course, a red carpet. How can we know the intimate moments of last week's French Riviera VIP-fest? The answer is, we can't. But, using your wildest imaginings, complete with a catalogue of Roberto Cavalli gowns, as they say in colloquial Italian, c'arrivi. (translation: you'll get there. undertone: ostensibly). Life is but a dream. So row, row, row, your yacht gently down the Mediterranean and enjoy these photos of my dearest amici.
Tweet
As I skip over a few continents and dip down under, it would appear that a slow, cold winter is descending upon the otherwise terracota island officially known as Australia. To me, however, it's the new frontier of fashion. I love me some Aussie fashion bloggers (and designers). Their style is beyond effortless and they wear a lot of grey, which is alright with me, considering it's my favourite fashion colour always and forever.
Tweet
Ladies and gentlemen, la pièce de résistance, ending my New York Fashion Week with a bang: Diesel Black Gold. Let me tell you about my insider experience at this show. All the people I've ever written about in my "Eurotrash People" series were in the flesh (Eleonora Carisi, Anna dello Russo, Giovanna Battaglia… and Chiara Ferragni aka The Blonde Salad). I was in Eurotrash heaven. Chiara, in her pink metallic Burberry trench sat across from me, and I don't normally approach people because I'm really shy and usually think I'm disturbing their only moment of tranquility – that's how I would feel if I were famous – but I knew I would regret not introducing myself to her.
Tweet
If "Eurotrash" could be captured in a photograph, this would be it. This is it.
Thanks to fashion blog, The Backseat Stylers , for feasting me on fresh pics of Anna dello Russo for H&M in Vogues from other countries, in other languages. Really, the English speaking world is always a bit in ritardo. Other than the obvious, dello Russo looks fucking glam as a honey boo boo tiara, these editorial shots hark back to the Eurotrash aesthetic. I've been trying to get you guys on this train for a long time, two photographs of ADR in a ball gown are worth 4 years of blog posts. Read the rest of this entry »
Tweet
Anna Dello Russo. Vuitton and an espresso. Can you say, Eurotrash? 
Just last week I got news of ADR's accessory line collabo with H&M thanks to a Fashionights.com post. The promo paraphernalia includes a video interview of ADR as she shows and tells her dollhouse apartment, complete with a fashion 'biblioteque' (a false friend in Italian-to-English: biblioteca = library; libreria = bookstore). Her literal translations made me lol a few times, especially her self-professed mission statement, "I am the guardian of the fashion", which she clearly just freetranslations.com'd in her head from the Italian, "sono la guardia della moda" – which is much more dignified and actually means, 'a fashion gatekeeper' IRL, ADR. See for yourself in the video: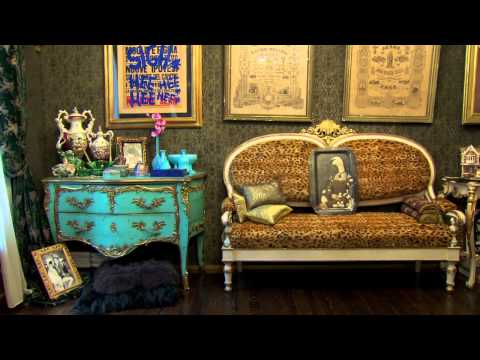 Tweet