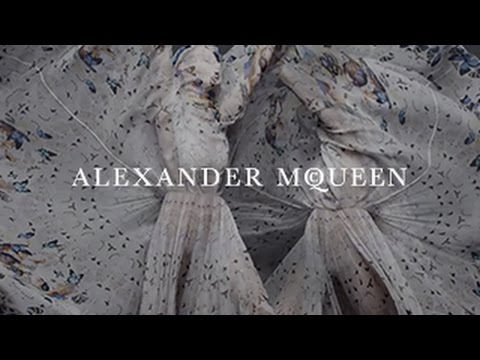 This chilling film by Sølve Sundsbø gives me goosebumps. It's been four years since Alexander McQueen's death. Ten years since the creation of the iconic, skull scarf. And zero years since fashion has been the same. McQueen imbued fashion with art. His legacy lives on in this film, and limited edition collection of silk scarves by Damien Hirst (the man behind the 50-million-dollar skull). I'm happy to see that McQueen's proclivity for synaesthesia is still right here.
The scarves will be available starting November 15th at Alexander McQueen boutiques and online.
Tweet
Architecture and mathematics – not the first things that come to mind when you think cocktail dress. For Sid Neigum, though, they are paramount. I'll admit, I had to Google what 18th century architecture was, precisely, 'cuz I was just like oh, The White House? Yes, as I learned from what my mom likes to call Google University, Palladian architecture is much like the geometry of all those little – mathematical – laser cuts down the front of the dresses we saw at Sid's runway. Incidentally, is it just me or is our entire industry calling him Sid?
Tweet
This darling infiltrated my Instagram one Sunday morning on my usual Sunday morning Instagram hunt (like an Easter egg hunt, yes, only the stakes are higher), while my boyfriend sleeps beside me, none the wiser. Sometimes I let out a whispered cry of joy when I find a gem like Giorgia, voraciously liking all her pics and leaving comments like, "Omg, stunning," which is what I left on this one photograph of her in a full-length fur coat in the middle of Manhattan, wearing nerdy glasses. Could it be I'm falling in love?  Read the rest of this entry »
Tweet
Mélissa Nepton, Spring 14. Style Democracy called this collection a "dark horse." After much consideration, I realized what exactly Nepton was trying to do this season. And it certainly wasn't "Ladies who Brunch," which, in case you were wondering, is perhaps the worst runway review I've ever read in my life, (if you can even call it a review). Mélissa Nepton is as enigmatic as fashion designers come. Not because her designs boast sartorial riddles to be solved, but because there is always more to her collections than meets the eye. Her collections are at first glance fleeting – on second glance, unfolding works of art.
Her inspiration for spring is the pikuseru – Japanese for pixel. This explains much of the pointillist prints and graphic patterns and cuts – like whole squares of fabric displaced at random on a sheer dress with a cubic grid appliqué. And there is the undercurrent of la plage here in long kaftans and palazzo pants, a theme Nepton revisits often. In fact, I see her aesthetic along the Côte d'azur, during the 1920s when the Dadaist courted everyday objects as art; clothes, too, go beyond the object – beyond the pixel – with which Nepton has had a most passionate love affair.
Tweet
Waiting for my boyfriend at the Shangri La Hotel one evening after yet another bowl of salty ramen, I couldn't help but eavesdrop on a conversation between one of the guests and a hotel employee, just gushing over the uniforms. He he he, I thought to myself, I could tell you a thing or two about those Ming vase dresses – heck, I'm even Facebook friends with the designer. (At once tasting the sweet nectar of being marginally acquainted with the fashion industry in Toronto).  Read the rest of this entry »
Tweet
Eurotrash is proud to support this amazing event happening this evening in Toronto. FUCK CANCER INWYKIWYK is an initiative to bring together young adults affected by this disease. The FUCK CANCER events have taken place in all over North America, raising money for hospitals and cancer centres, making a significant impact in the treatment of cancer. The t-shirts act as tickets to the event and they're also pretty cool, profanities aside.
 Isabel Marant pour H&M: Sweater $59.95; Leather Pants $299; Cardigan $149 
Isabel Marant is the epitome of cool – I dare say she's Eurotrash, too. Nouveau rich meets old money; rock 'n' roll meets bohemia. I've loved her hip-hugger shorts with a chunky belt, chambray mens shirt and fringed ankle boot as the ideal outfit to rule the world in since I saw her first collection – and subsequently, wanted to rule. I've perused her boutique in Soho a few times over. And I'm forever watching the Man Repeller cross off the must-have item from Marant, every season, in the back of a taxi cab. With a boyish charm, Leandra wears Isabel almost too well.  Read the rest of this entry »
Tweet
Hansa Toys Family of Flamingos $345; www.modaoperandi.com
Have you been reading my blog, lately? If so, you'll know that I've made a daring claim: flamingos are the fashion birds to watch! There are flamingo undertones in Gucci Spring 14 and overtones in Vika Gazinskaya's collection of said season. They were the featured birds in Harper's Bazaar The Extras this November. And now, Moda Operandi is telling fashionistas of the world to put these life size flamingos in their children's nurseries. I'd like to put a few of these in my Eurotrash office, as a matter of fact. Flamingos? I put that shit on everything!
Tweet
Alas, it's the last day of Toronto Fashion Week and I've taken to guerrilla-style coverage. Reporting live from the trenches, I spent the duration of the Bustle runway show sitting in the photography pit, encroaching on the red-taped territory of someone who actually knows how to use an SLR. Ahem, me? I was live streaming the runway show on my iPhone for a Google Hangout with Sony Canada hosted by Kenton Magazine and Jay Strut. When technology meets the runway, I feel most at home – which is weird because a few years ago I would have referred to myself as digitally illiterate (SEO, what?). But just as Shawn Hewson's spring collection suggests, technology and fashion are birds of a feather.  Read the rest of this entry »
Tweet
alice + olivia Bearista Bear, $21.95 CAD; alice + olivia Designer Double Wall Ceramic Tumbler, $21.95. 
Just hear those gold cards blinging, Caramel Brûlé sipping, red cup grip-a-ling, too. Yes, I plan on prefacing all my blogposts with holiday cheer from now until December 31st, OK? If you've had the privilege of grabbing a coffee with your favourite Eurotrash blogger, you will know that I frequent two places: when I'm feeling like Rob Ford, I go to Tim Hortons; when I'm feeling more like Tom Ford, I head to Starbucks. Because let's face it, there's nothing fashionable about Tim's.
Starbucks on the other hand is notorious for their fashion collaborations, which in the past have included Rodarte, Jonathan Adler and Christian Siriano. Just in time for this holiday season, Starbucks reveals their latest, limited edition collection in collaboration with alice + olivia. The adorable Double Wall Ceramic Tumbler in a tuxedo and tutu is available in Starbucks locations across Canada, along with the dainty Bearista Bear sporting a token, alice + olivia black and white striped dress. These two make the perfect gift for the fashionista (and Eurotrash girl) in your life. Hint, hint, nudge, nudge.
Tweet