Archive for November 2013
It's the most wonderful time of the year for everything but my skin. The other day I thought it a genius idea to wear a crop top sweater bearing my ostensible six-pack when halfway through the day flakes of dry skin started to gather around my waistline. Um, no. That is not something I am about to be having, yet again this winter. It seems like the older I get, the drier my skin gets – and the more I have the urge to just squeeze out 40 tubes of body lotion into my bathtub and jump in. Read the rest of this entry »
Tweet
My picks from eLUXE: 7 For All Mankind, Diane Von Furstenberg Cardigan, Headmistress Fur Pompom, Halcyon Days 18ct Gold Bangle, Diane Von Furstenberg Bag,
So, add eLUXE to your Black Friday online shopping stops – because really, who is going to leave their house to go to the mall when we can just shop and eat cereal at the same time? Here are some of my special favourites from the site: I've lived in the DVF camo sweater for about 20 minutes at the eLUXE showroom and would have smuggled it out if it wasn't so un-shoplift-ably heavy. Kidding! A good printed bag is essential for drearier weather. I once learned from a Parisian doyenne that in the wintertime a bright coat and bag is always better than plain black. Next lesson, a blue fur pompom is a must-have this season, and at twenty-five-dollars a pop it's totally justified – that's like 4 boxes of cereal. Duh. Read the rest of this entry »
Tweet
The November Candle. Well, that's the literal translation of her name. Married to Italian architect, Fabio Novembre, Candela is a self-proclaimed vintage lover, part-time model and full-time mom. She is one of Grazia Italia's 'It Girls' and as of today, inducted into my Eurotrash People blog of fame.
Tweet
 J.Crew pyjama sets approx. $110 USD. 
Last night we stopped by the J.Crew x Beckerman Bite Plate holiday party. Admittedly, I have yet to purchase something from J.Crew (like I need another brand to crush on), but after last night I can safely say I've been converted. I used to think J.Crew was too preppy for me – even though I do have a preppy side that comes out sometimes by way of the oxford shirt. Can't really wear loafers because I have the world's worst ankles. But monogrammed pyjamas? GIMME! I love these to lounge around the house; reading books, nerdy glasses slipping down my nose after every page turn. A big cup of hot chocolate with marshmallows floating to the surface; I eat each one with cabin fever fervour. As you can see, I don't like to leave my house unless I have to. I'll be ordering these online, thank you very much.
Tweet
Photography by Talya Macedo.
The days are getting really short in Toronto as the winter solstice approaches. After a full day of spring previews, Talya and I caught the last vestiges of daylight to capture my look. A dark vamp wears a black trench coat, a muted floral print pant with utility boots and big sunglasses. I love the mystery this look exudes. Last, but not least, I've switched up my bags (and accidentally left my debit cards in my Neverfull one fateful afternoon). The dreary weather deserves a grey-toned Gucci Boston bag with a few hearts scattered for good measure. I don't know about you, but if I have to spend my afternoons in total darkness, I'm going to look as stealth as possible. Like a wealthy Venetian in disguise at dusk on Carnevale. How do you brave the winter fashions? Read the rest of this entry »
Tweet
 Photography by Alexander Liang
I'm sitting here writing this post wearing a pair of leggings and my boyfriend's hoodie. I have a shameful propensity for loungewear – it's like my Lululemons call out to me from inside my closet, "wear me, wear me!" and against my better judgement, I oblige. Never louder is their cry than when I'm going on a trip somewhere, especially if it involves a long haul flight. That pressurized cabin is a spawning ground for women in Luon, and you'll find me there, assuming static pretzel position; the leader of the pack.  Read the rest of this entry »
Tweet
OK. I'm gonna level with you. There are the girls of hard faces, and the girls of not so hard faces. Chiara Totire, Gioia style assistant, is the former. Man Repeller? Hard face. Diana Vreeland? Hard face. Elsa Schiaparelli? Well, you get where I'm going with this. Now, having a hard face is certainly not a physiognomy of the Eurotrash, but I would trade cheekbones and bushy eyebrows with these ladies any day. Read the rest of this entry »
Tweet
 Photography by Alexander Liang.
I recently featured the Vawk for eBay holiday collection on the blog, which will be available on eBay starting December 2nd. In the meantime, I decided to try my hand at styling the leather cuff and cape on a chilly fall afternoon. Didn't help that I thought it a brilliant idea to wear a nightgown outdoors, inspired by my latest Eurotrash People feature, Giorgia Tordini, who wore a silk camisole underneath a sheer plaid dress shirt in more temperate conditions.
Since the Vawk collection is quasi-bondage-50-shades, I tried to stay on the theme of boudoir – even if I was freezing on the boulevard – and paired pointy high heels with skinny wax denim jeans. The leather cuff adds just the right thickness to my clutch-clutching wrist and the cape makes me look like a chic wonder woman of sorts. Saving the world one outfit at a time.  Read the rest of this entry »
Tweet
Karlie Kloss, Vogue Japan, 2008. The unofficial face of Eurotrash since 2009 – nicknamed Anna by one of my readers. 
Dear readers,
I'm excited – and nervous – to put this out into The Universe. After much consideration, I've decided that it's time to say farewell to Whatever Eurotrash, the brand, and to go on an odyssey of sorts. I'm referring to this as: THE REBRAND. Read the rest of this entry »
Tweet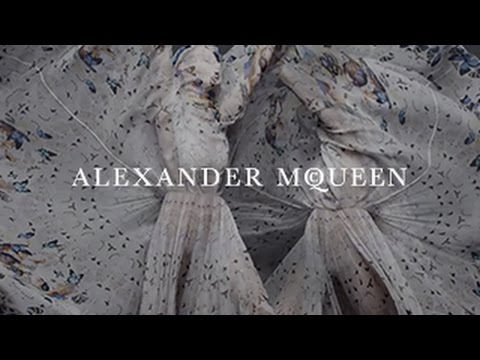 This chilling film by Sølve Sundsbø gives me goosebumps. It's been four years since Alexander McQueen's death. Ten years since the creation of the iconic, skull scarf. And zero years since fashion has been the same. McQueen imbued fashion with art. His legacy lives on in this film, and limited edition collection of silk scarves by Damien Hirst (the man behind the 50-million-dollar skull). I'm happy to see that McQueen's proclivity for synaesthesia is still right here.
The scarves will be available starting November 15th at Alexander McQueen boutiques and online.
Tweet