Anna Dello Russo. Vuitton and an espresso. Can you say, Eurotrash? 
Just last week I got news of ADR's accessory line collabo with H&M thanks to a Fashionights.com post. The promo paraphernalia includes a video interview of ADR as she shows and tells her dollhouse apartment, complete with a fashion 'biblioteque' (a false friend in Italian-to-English: biblioteca = library; libreria = bookstore). Her literal translations made me lol a few times, especially her self-professed mission statement, "I am the guardian of the fashion", which she clearly just freetranslations.com'd in her head from the Italian, "sono la guardia della moda" – which is much more dignified and actually means, 'a fashion gatekeeper' IRL, ADR. See for yourself in the video: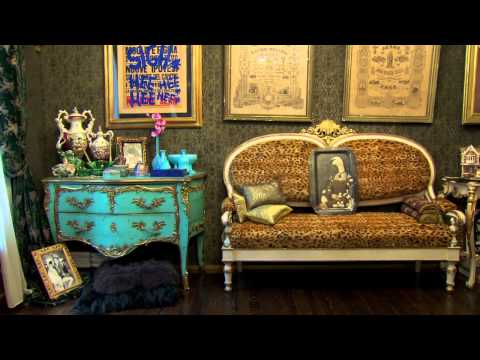 Tweet
The Givenchy Lizard Skin Obsedia Clutch;   $1975 CAD; ssense.com
HOT OFF THE FUCKING PRESS. The lizard could very well be the same lizard Jackie Siegel killed in Wednesday night's hot doc presentation of The Queen of Versailles. This bag is fresh. Just added to SSense.com 2 days ago – I was like, whaaat? Oh no you di'int.
How am I ever going to afford this clutch is beyond me. This afternoon I took off work to try my hand at panhandling down on Queen Street. I'll pull at those strung out hipsters' heartstrings. They got money. They own shit like motorcycles, pop-up shops and commensals. I'm actually going to visit the girl who has basically dressed me every fashion event this past year, Ashley Rowe, she's having a sale!!!!!!!!!!!!!!!!!!!!!!
Dreams of Givenchy are close to me and there isn't an eel-trimmed blazer I wouldn't wear the lizzy-lizard purse with. If I was jazz.fm I'd start a fundraiser, but I'm just a Eurotrash girl trying to look FTD (fresh to death, not fuck to down). Donate now?
Tweet
September 2011: the first time I heard about Pinterest. I scrolled through the site for about 2.5 seconds, then dismissed it as just another, you know, high-res photos of brides, cupcakes, and everything nice sort of site.
Boy, was I ever wrong.
April 2012: there are whispers that Pinterest might become even bigger than – gulp – Google. And yet, the alleged genius of this so-called digital juggernaut remains mostly undefined. Nir Eyal writes in The Globe & Mail that Pinterest's success resides in an obvious secret: "Pinterest wants its uses to do three things: consume, create and share content."
Read the rest of this article on Toronto Standard here.
Tweet
Photography by JR Bernstein
So a few weeks ago I was asked to participate in a trend challenge for FLARE Magazine. Check out my entry here! Being Eurotrash and all, I spiced up the run of the mill sporty look with some luxe accessories. Ipso facto, the luxe sport trend everyone is trying to emulate with their high heels and mesh on mesh on mesh. What I found out in putting together my look for the shoot was um, 90% of my wardrobe falls under the luxe sport aesthetic. Tailored jackets, zipper hoodies, harem pants, mesh tops and shoes, designer sweats, vests, tights.
So I really have to thank FLARE for helping me discover the true luxe sporty girl within….
Check out the rest of the photos we shot that afternoon for the trend challenge. A huge thank you to photographer, JR Bernstein, for collaborating with me and making me look good. You can find more of his captures of life on his website www.jrbernstein.com 
Tweet