Eurotrash in Montreal (2007) and in Milan (2005) clad in Missoni. 
 Some people grow up with a silver spoon, or several, as I learned last night watching The Jazz Baroness – the story of Pannonica Rothschild's departure from her silver spoons into the then-subversive American jazz scene of the 1950s. Sure, if I was Justine Rothschild I'd have many silver spoons. But would I have Missoni?
Something about money that just can't buy you good taste. In fact, the Rothschilds who made appearances in the throwaway documentary were far from fashionable – far from presentable, if you ask me. First of all, none of them had ever heard of botox. Or dentists. A clan of billionaires with bad teeth and probably, bad breath. Gosh. Can you believe the Royal Family asked the Rothschilds for A LOAN? You would never know by looking at them, that's for certain.
What's all this got to do with the Missoni stripes that haven't left my margins yet? Nothing really. Except that if I were a billionaire with the choice of duck milk, goose milk or half-sweetened lizard jizz for breakfast I'd certainly take the time to at least PAY someone to make me look presentable – and if we're talking about me, personally, I'd want to look like an aristocratic version of Anna dello Russo minus her face.
My Missoni hat and scarf! OK, so they don't match per se, but isn't that the point of Missoni? 
So I've become quite content (ok, satiated for the time being) with my paltry collection of Missoni fare. I've got a knit scarf and I used to own a Missoni sport knit cardigan, which I bought in Florence when there used to be a Missoni Sport. (I sold the cardigan. Cacat!).
This Christmas I added a Missoni cashmere hat to my collection thanks to Mr. Eurotrash, who has recently added the ability to stop women in the street to compliment them on their Missoni pieces to his many talents. Eurotrash like me.
Tweet
Perfect. So "I don't give a fuck". Just slipping on my $1400 sweater to hitch a ride on the back of a motorino. um, eurotrash?
Tweet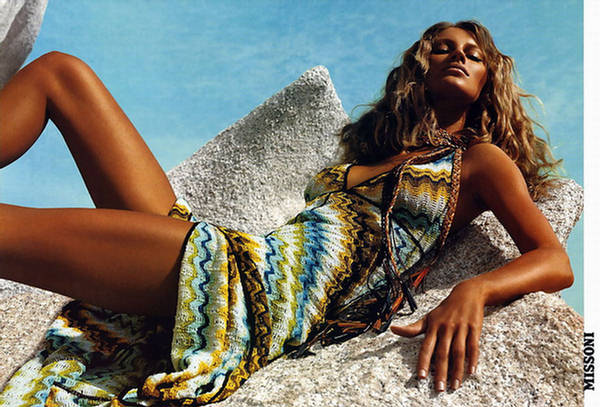 Gisele in Missoni ads – my all-time favourite campaign.
Missoni started as a small knitwear business run by Ottavio and Rosita Missoni in the 1950s. A baby brand but as Emilia points out, one that flourished in the image of a prosperous post-war Italy. Missoni goes hand in hand with that silly, quasi-cartoon aesthetic that brought the likes of Swatch watch and Pino Daniele, coloured reading glasses and Levi jeans to the token Italian look. Since then the brand has grown in the hands of first-generation Missoni children into a world class luxury fashion house – but overall, Angela Missoni (creative director) has stayed true to her parents' kaleidoscopic vision – colouring outside the lines whenever need be.
Tweet

Margherita Missoni illustration by Lisa Nishimura for Whatever Eurotrash.
If there's any brand that embodies the effortless chic of being Eurotrash, it's Missoni. There's something so patently European about the colour zigzags that catch the discerning eye from miles away. As a sort of homage to the brand, Eurotrash shares a series of illustrations, articles and photographs that should sorta make you fall in love at first sight, or for some of us, all over again.
Part of the celebrations include a series of illustrations by Toronto-based illustrator, Lisa Nishimura. Such a shy girl to talk to at first, but her art speaks volumes about the caliber of artist you're dealing with. I asked her a few questions about her work and her ambitions as she coloured away these gorgeous illustrations of Margherita Missoni. Having her pieces here on the blog is so super exciting for me!
Tweet
This is a love story. This is the story of how my soul mate and I finally came together after years of struggle. This is the story of Missoni and me.
I grew up in the 1980s and 1990s. My immigrant parents are italophiles who brought my siblings and I back to Italy every summer. We'd spend two months on the Argentario, the Amalfi Coast, the Italian Riviera. We'd listen to Lucio Battisti and Claudio Baglioni singing about summer love affairs at the seaside. I would see women on the lungomare in cork sandals, billowing kaftans and headscarves, bright colours in squiggles, zigzags and stripes evoking the bliss and freedom of summertime. These were the prints of Missoni, bold colours and patterns that spoke to Italy's new-found place in modern Europe, an Italy still reveling in the prosperity of its miracle decade, the pains of the Euro yet years away.
When I became conscious of fashion years later, I coveted Missoni. Its multicoloured prints spoke to me like no other, and I yearned to pile print on print on print. I promised myself that when I "grew up", I would wear only Missoni. The problem was, of course, the price. Missoni's knits (and we are talking Missoni, not M Missoni, or Missoni for Target, or any other unfortunate lapse into democratic fashion, though Mare is fair game) come at a pretty penny. As a result, I was all grown-up (or so they keep telling me) and didn't have ONE Missoni piece. Like other premier designer labels, Missoni just seemed so unattainable.
That is, until last November. In the brief valley between Fall and Resort collections, I experienced a revelation. Here I was. 26 years old, certainly trendy but not fashionable. I have some amazing accessories and several great pairs of shoes, but a Chanel bag doesn't make you Anna Dello Russo. Far from it. Moreover, I found myself very much caught up in trends. Coloured jeans Fall 2011? Check. Jumpsuit and marine stripes summer 2009? Check. Leopard print Cruise 2011/2012? Check. It suddenly occurred to me that I was spending so much money on so many pieces that I would inevitably shy away from the next season. My wardrobe wasn't getting bigger or better with all the money I was spending. Instead, I had to start from scratch, essentially, every new season.
I decided that I wanted to make the transition into that small group of real fashionistas, that tiny circle represented by Anna, Garance Doré et aliae who you see sprinting between shows at Paris fashion week or posing for pictures with André Leon Talley. I mean, no pap will snap my picture as I walk into Yorkdale. But you see what I'm getting at (I hope). I wanted to turn fashion into less of a trend-oriented activity towards something more permanent. Of course, although my creative capital is boundless, my actual capital is not. Thus, I do not expect to blossom into Chiara Ferragni tomorrow, or even next year. But I'm on my way, which leads me back to where I began.
In November 2011, then, I decided to dedicate myself to Missoni, my true love. Gone are the days of dedicating my time to ephemeral trends. Instead, I have begun to buy only Missoni (besides the strictly necessary, like jeans and white t-shirts). Since Toronto is a terrible place to buy Missoni (stores in the city only get a few of the most conservative pieces and I find the prices something like 20% higher than elsewhere), I spend my free moments monitoring online stores for zigzags in size 38. Admittedly, it's feast or famine. Once I splurge on a good piece, that's it for me for the next little while. Nevertheless, the pain and sacrifices are worth it, as I know I'm working towards a greater goal.
I'm at 5 pieces so far, and I have another piece arriving any day now. I really do feel as if this is it for me. I see myself in 30 years old piling print upon print upon print like in my dreams (I'll have to remain a 38 for life!), channeling the carefree days in Italy of my youth. When I wear my stripes and zigzags, I just know this is love. And let me tell you, I never knew there was a love like this before.
Tweet
 Margherita Missoni illustration by Lisa Nishimura for Whatever Eurotrash sketchandpixel.wordpress.com
The flu almost got the best of me last week but plenty of rest, oil of oregano, vegan soup and carrot juice got me through. Today I'm proud to announce the beginning of the MISSONI celebration here on Eurotrash. The house is a classic example of luxury knitwear in it's most idiosyncratic form. The token Missoni prints and patterns have become synonymous with European chic. Once you see those stripes, you know the kind of lady you're dealing with. Enjoy the subtle missoni-fied changes we made here on the blog and tune in for some special Missoni related posts, illustrations and photo shoots in the upcoming days!
xo Eurotrash
Tweet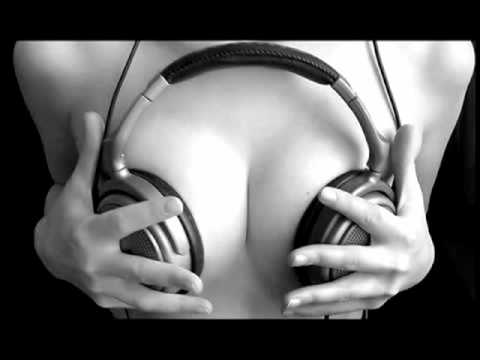 We packed our Weekenders. Some had Louis, some Balenciaga. You know, Giant. Covered.
Set sail for some island in the medi on which they do lots and lots of
drugs in the music
in the salt water that stays in your hair long after the tide rolls in the deep. like Adele, but not as sad.
We Came To Party.
or at least that's what the brochure says.
I just came to fuck on a Wally. Wear Couture, Kiss your boyfriend on the lips, sorry.
She pours me a tall glass of champagne by the bottle, on the bottle.
On her. Quest que c'est? Pardon, je ne parle pas French. Louis, Coco, you know? Gaultier?
Yeah, yeah. Big Macs and a supersize order of French fries.
Exactly.
I'm at the head of the ship, giving head, with this song in my head from The XX.
Glaciers have melted to the sea. Things have gotten closer to the sun. I wish the tide would take me over. And I've done things in small doses. I've been down onto my knees. So don't think that I'm pushing you away. And you just keep on getting closer. When you're the one that I've kept closest.
Tweet

image via colorsmagazine.com
Colors magazine was the first magazine I ever read. I must've been around 10 years old. I remember the issue, too. It included a story about a vending machine in Japan that sold women's dirty panties in a neat little package. I'm not even lying. As you can see, the issue scarred me for life. A recent visit proved nothing has changed at this magazine – their latest quarterly issue is dedicated  to shit. I love this photograph, though, taken for the feature on Mongolian transvestites who brace the morning dawn after a drunken vigil, adorned in traditional Mongolian folk costumes.
Tweet
would i get 1000 followers if this was my twitter pic? 
Forgive the unconventionality of this post for a Eurotrash, fun-loving, light-hearted blog. Who's kidding who? I get contentious about everything up in here. My latest beef to pick sort of stems from something I've been thinking about recently and has come up in various forms here and there. What's with girls putting up photos of themselves in lingerie on twitter, Facebook, etc? What kind of message (if any) do those kinds of pictures send out to other girls and other guys and people in relationships?
Tweet
New Years Eve in Miami required Ashley Rowe silk pants, her black t-shirt with coattails – paired with Herve Leger snakeskin heels. The boa at the end of the night was extra. Superfluous tomfoolery. My arm party consisted of a Links of London charm bracelet, Tiffany, David Yurman stackable ring and Links of London hope ring. A Tag watch to keep abreast of the countdown. Eyeliner to hide the bags from a 6am flight to Miami airport, sleeping only 1 hour the night before due to cuddles. Life is good.
Tweet